Store
Deals
- Manchmal kommen einzelne Geräte mit kleinen optischen Mängeln zu uns. Unter dem Stichwort "StoreDeals" bieten wir diese Ware zu einem besonders günstigen Preis an. Dieses Storedeal-Angebot weist folgende Mängel auf:
Leichter Bruch an der Handablage
Bei der Nutzung von Notebooks und vor allem durch falschen Transport wird die Handablage enorm beansprucht. Kleine Risse oder Brüche an der Handablage können die Folge sein. Die Beschädigungen, die unsere StoreDeals an der Handablage aufweisen, sind oft minimal und die Notebooks sind ansonsten Top in Schuss.
Beispielbilder:
Achtung! Bei diesen Bildern handelt es sich
nicht um Fotos vom jeweiligen Produkt
, sondern lediglich um Beispielbilder zur Verdeutlichung der Fehlerkategorie!
CPU
Intel Core i5-7300U (2x 2,60 GHz / 3M Cache / 15 Watt)
Family
Intel Core i5 (7.Generation)
Number of Cores
2 cores (dual-core)
Max. Turbo Taktfrequenz
3,50 GHz
Prozessorgrafik
Intel HD 620 (4K Support)
Display
35,6cm 14" TFT Display IPS
Screen Resolution
1920 x 1080 Pixel (FHD)
Touchscreen
nicht vorhanden
Webcam
integrierte HD WebCam
Installed RAM
8 GB DDR4 (1x 8 GB)
Max. installable RAM
32 GB DDR4 (2x 16 GB)
Festplattentyp
Solid State Disk
Optical drive
nicht vorhanden
Audio
HD Audio, 2x 2 Watt, Dual Array Microphone & Kopfhörerausgang
NIC
10/100/1000 MBit/s Gigabit-Ethernet Adapter
Wireless LAN
Intel Dual Band Wireless-AC 8265 WLAN
WWAN / UMTS
4G UMTS, HSPA, HSPA+, DC-HSPA+, LTE Advanced (Sierra EM7455 M.2-Card)
Card Reader
4-in-1 SD Kartenleser (SD/SDHC/SDXC/UHS-I) + Smart Card Reader
USB 3.1
2x USB 3.1 (davon 1x always-on)
USB Typ-C
1x USB 3.1 Typ-C/Thunderboldt 3
Audio
Headset Anschluss (Combo Mini Jack)
TV Out
via Adaper USB-C zu VGA / HDMI / DP möglich (Sonderzubehör)
Kensington Lock
Anschluss für Kensington Lock
Battery
Li-Ion battery in used condition (14 day exchange policy for capacity < 40 min., actual duration may vary)
Keyboard layout
german keyboard with lighning
Pointing device
ThinkPad UltraNav (multi gesture touchpad + pointing stick)
Fingerprint
nicht vorhanden
Dimensions
336.6mm x 232.5mm x 19.95mm
Weight
ab 1,58kg / max. 1,85kg
Operating system
Windows 10 Pro - 64 Bit
Warranty
12 Monate Lapstore-Garantie
Service package
nicht vorhanden
Condition
Storedeal mit leichten Mängeln (siehe Beschreibung), im Übrigen: Normaler Gebrauchtzustand
Contents
Notebook with accessories in neutral shipping carton
Lenovo ThinkPad T470
Leichtes und leistungsstarkes Business Notebook
Arbeitsspeicher auf bis zu 32 GB erweiterbar und Festplatte austauschbar
Akku austauschbar, es stehen Modelle mit unterschiedlicher Leistung zur Auswahl
3 USB 3.0 Anschlüsse und einen USB C / Thunderbold 3 Anschluss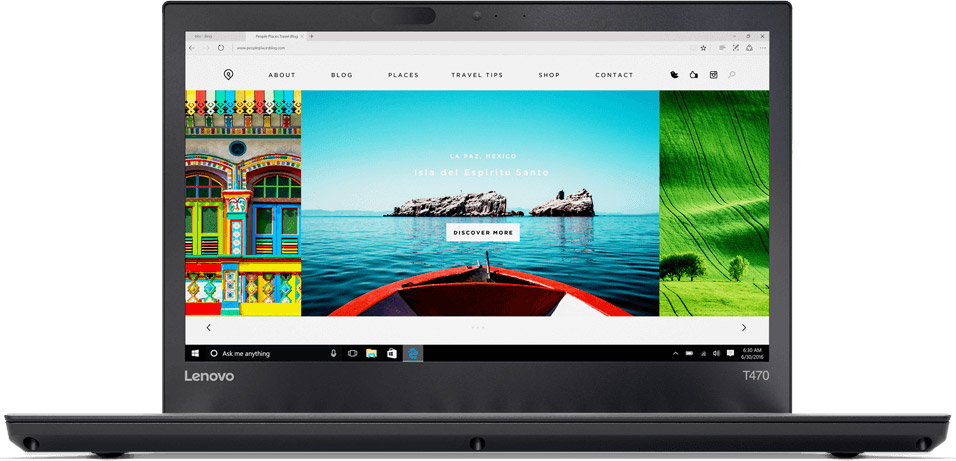 Leistungsfähig und zuverlässig
Der T470 ist - wie alle Geräte der T Serie von Lenovo - ein echtes Arbeitstier und als Business Laptop konzipiert. Er unterscheidet sich auch baulich von seinem Vorgänger und hat ein neues, flacheres Design. Mit 19,9 mm ist der T470 rund 2 mm flacher als der T460. Beim Gewicht gab es keine großen Veränderungen. Lenovo selber gibt es - je nach Modell und Akku Ausstattung - zwischen 1,58 kg und 1,85 kg an. Die Bildschirmdiagonale beträgt 35,56 cm (14,0 Zoll) und mit seiner flachen Bauweise ist der T470 sehr kompakt und vereint Leistungsfähigkeit und Zuverlässigkeit.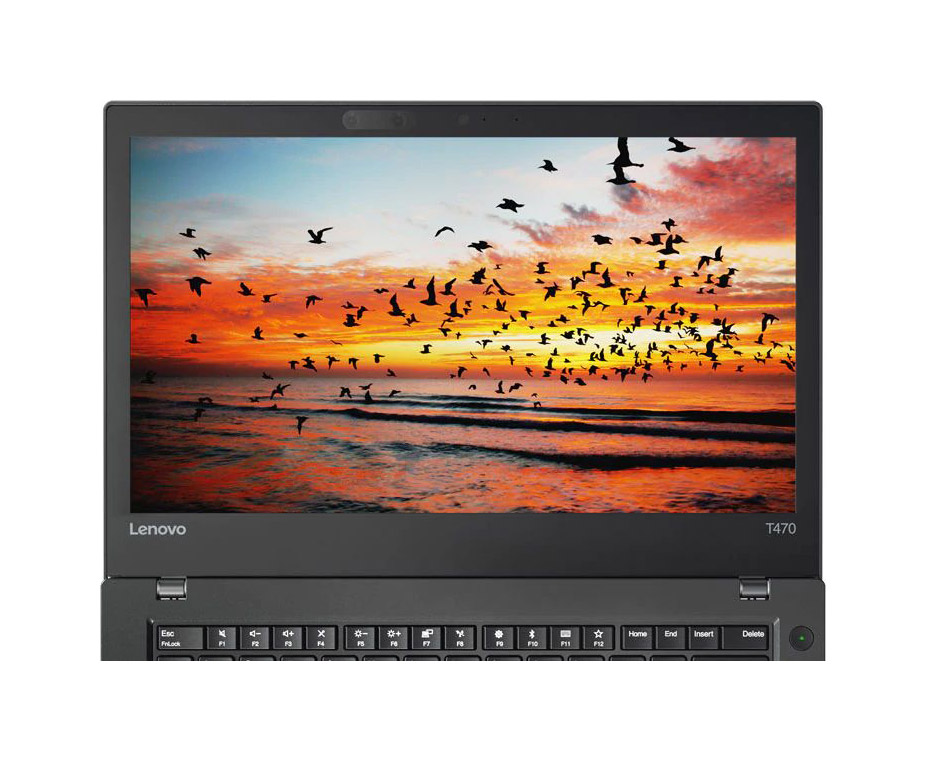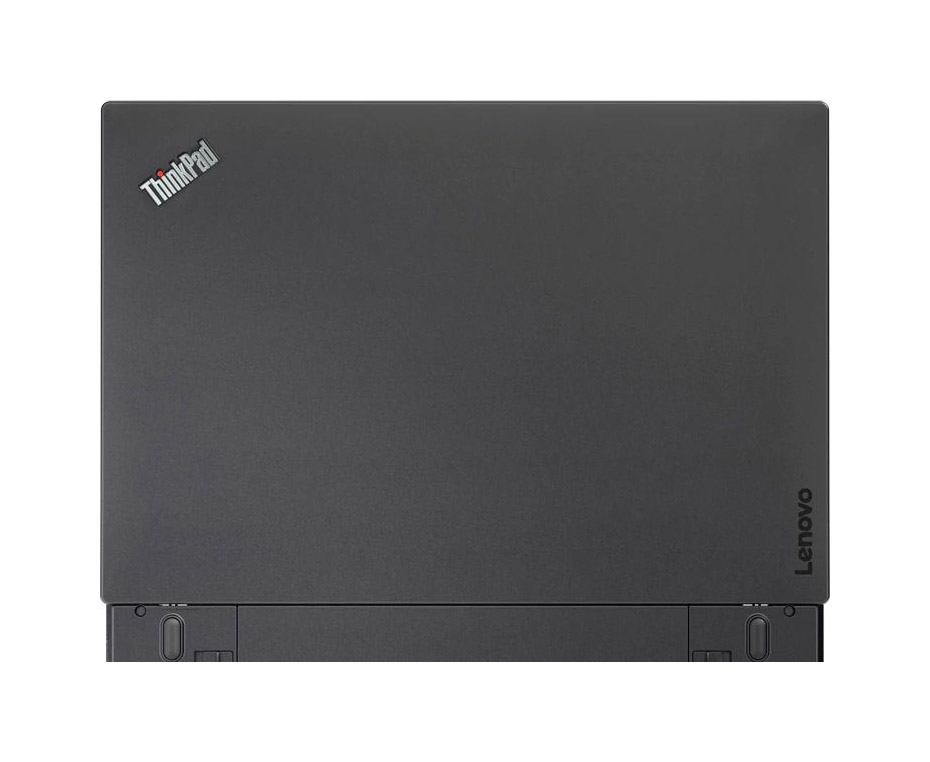 Lange Akkulaufzeit
In allen Modellen der Baureihe sind Intel Core Prozessoren der 6. und 7. Generation verbaut. Auch große Datenmengen stellen für den Rechner kein Problem dar, denn dieses Gerät wächst mit den Ansprüchen seines Besitzers: Der Arbeitsspeicher ist, auch nachträglich, auf bis zu 32 GB aufrüstbar. Die Akkus sind beim T470 austauschbar und neue Akkus bieten lt. Hersteller bis zu 18 Stunden Laufzeit. Mit diesem Notebook können Sie viele, viele Stunden produktiv arbeiten. Egal, wo Sie Sind.
Viele der ThinkPad Modelle verfügen über einen integrierten Fingerprintreader, der Ihnen - und nur Ihnen - den schnellen Zugriff auf Ihre Daten ermöglicht. Bei dem Fingerabdruck-Sensor handelt es sich um einen Touch-Sensor, der schnell und zuverlässig funktioniert. Einige Modelle der Reihe lassen sich mit einem LTE Modul ausstatten, so sind sie auch unterwegs jederzeit mit dem Internet verbunden. Die Geräte der T470 Serie sind mit vielen Anschlüssen ausgestattet und bieten neben 3 USB 3.0 Anschlüssen auch einen USB C / Thunderbold 3 Anschluss. Ein SD-Kartenleser ist ebenfalls auf der rechten Gehäuseseite verbaut.

Umfangreiche Zubehörpalette
Bei Videokonferenzen sorgt die lichtempfindliche 720p-HD-Webkamera des Notebooks mit Weitwinkelbereich und Face-Tracking für perfekte Bilder und die zwei Mikrofone mit Geräuschunterdrückung sorgen für einen klaren Ton. Durch die praktischen Multimediatasten haben Sie jederzeit schnellen und einfachen Zugriff auf die Mikrofon- und Kameraeinstellungen.
Lenovo bietet für viele seiner Modelle eine umfangreiche Zubehörpalette. Dockingstationen zum einfachen Anschluss von Monitor, Drucker, Keyboard und Maus. Akkus in verschiedenen Größen und mit verschiedenen Leistungen. Zusätzliche Netzteile, Taschen, Rucksäcke. Die Geräte der T Serie können Sie bei Bedarf erweitern und jederzeit aufrüsten. LapStore hat viele dieser Artikel im Sortiment. Wenn Sie Fragen haben, sind wir jederzeit für Sie da.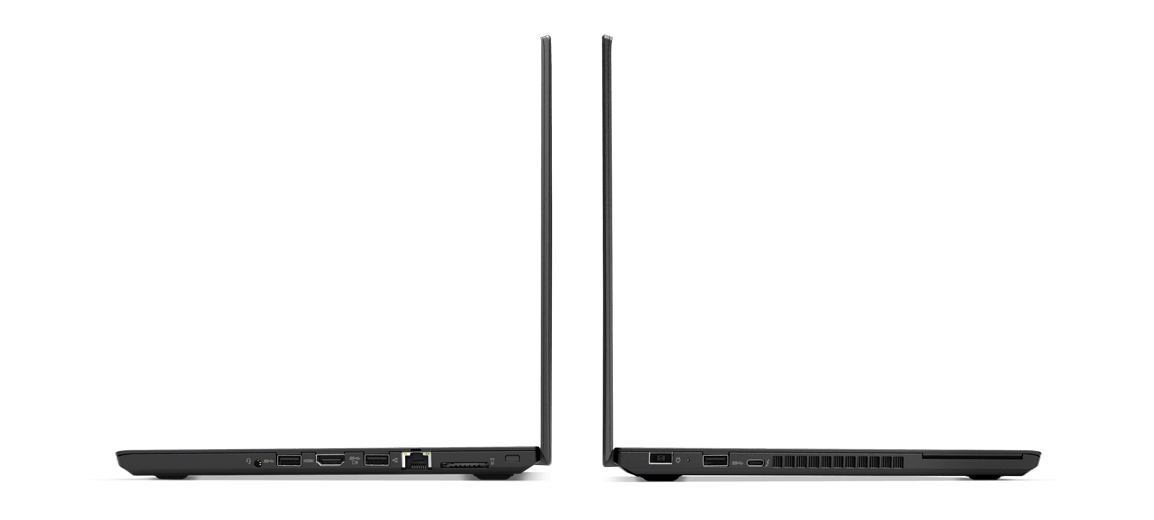 Zubehör
Gleich mitbestellen: Mit der Dockingstation wird aus Ihrem Notebook ein vollwertiger Arbeitsplatz. Alle Informationen zum Thema haben wir für Sie in einem Blogbeitrag zusammengefasst.
shipping fees & delivery times
Payment method:
Vorkasse mit PayPal Express
Vorkasse mit Kreditkarte oder Giropay
Vorkasse per Banküberweisung
Nachnahme
Vorkasse mit PayPal Express
Vorkasse mit Kreditkarte oder Giropay
Vorkasse per Banküberweisung
Shipping method:
DHL-Paket
DHL-Paket
DHL-Paket
DHL-Paket
DHL Express
DHL Express
DHL Express
Shipment to Germany
by 29.09.2021
5,90 EUR

*

by 29.09.2021
5,90 EUR

*

by 01.10.2021
5,90 EUR

*

by 29.09.2021
10,90 EUR

*

by 27.09.2021
14,00 EUR

*

by 27.09.2021
14,00 EUR

*

by 29.09.2021
14,00 EUR

*

…
Shipment to France
by 01.10.2021
23,95 EUR

*

by 01.10.2021
23,95 EUR

*

by 05.10.2021
23,95 EUR

*

-
-
-
-
Shipment to Netherlands
(Shipping to commerical resellers only)
by 01.10.2021
23,95 EUR

*

-
by 05.10.2021
23,95 EUR

*

-
-
-
-
Shipment to Austria
by 01.10.2021
14,95 EUR

*

by 01.10.2021
14,95 EUR

*

by 05.10.2021
14,95 EUR

*

-
-
-
-