Store
Deals
- Manchmal kommen einzelne Geräte mit kleinen optischen Mängeln zu uns. Unter dem Stichwort "StoreDeals" bieten wir diese Ware zu einem besonders günstigen Preis an. Dieses Storedeal-Angebot weist folgende Mängel auf:
Bruch an der Handablage
Bei der Nutzung von Notebooks und vor allem durch falschen Transport wird die Handablage enorm beansprucht. Kleine Risse oder Brüche an der Handablage können die Folge sein. Die Beschädigungen, die unsere StoreDeals an der Handablage aufweisen, sind oft minimal und die Notebooks sind ansonsten Top in Schuss.
Beispielbilder:
Achtung! Bei diesen Bildern handelt es sich
nicht um Fotos vom jeweiligen Produkt
, sondern lediglich um Beispielbilder zur Verdeutlichung der Fehlerkategorie!
CPU
Intel Core i5-6300U (2x 2,4 GHz / 3 MB Cache / 15 Watt)
Family
Intel Core i5 Mobile (6. Generation)
Number of Cores
2 cores (dual-core)
Max. Turbo Taktfrequenz
3,00 GHz
Prozessorgrafik
Intel HD 520 (4k Support)
Display
35,6cm 14" TFT Display mit Multitouch
Screen Resolution
1920 x 1080 Pixel (FHD)
Touchscreen
MultiTouch + Stifteingabe
Webcam
integrierte HD WebCam
Installed RAM
8 GB LPDDR3 (onBoard / kein Steckplatz)
1st HDD
240GB SSD SATA M.2 - 80mm
Festplattentyp
Solid State Disk
Optical drive
nicht vorhanden
Audio
HD Audio, 2x 2 Watt, Dual Array Microphone & Kopfhörerausgang
NIC
Netzwerk via Adapter (Sonderzubehör / kein Lieferumfang)
Wireless LAN
Intel Dual Band Wireless-AC 8260
WWAN / UMTS
4G UMTS, HSPA, HSPA+, DC-HSPA+, LTE Advanced (Sierra EM7455 M.2-Card)
Ext. monitor
1x Mini Displayport
USB 3.1
3x USB 3.1 (davon 1x always-on)
Audio
Headset Anschluss (Combo Mini Jack)
Network
1x RJ45 (via Adapter)
Docking
Anschluss Dockingstation über USB 3.x
Battery
Li-Ion battery in used condition (14 day exchange policy for capacity < 40 min., actual duration may vary)
Keyboard layout
german keyboard with lighning
Pointing device
ThinkPad UltraNav (multi gesture touchpad + pointing stick)
Fingerprint
integrierter Fingerprint Reader
Dimensions
333.0 x 229.0 x 16.45mm
Operating system
Windows 10 Pro - 64 Bit
Warranty
12 Monate Lapstore-Garantie (Akku nicht enthalten)
Service package
nicht vorhanden
Condition
Storedeal mit leichten Mängeln (siehe Beschreibung), im Übrigen: Normaler Gebrauchtzustand
Special features
Kein Digitizer Stift im Lieferumfang (Sonderzubehör!)
Contents
Notebook, AC adapter
Lenovo ThinkPad X1 Yoga
Vielseitig: Notebook, Tablet und mehr in einem Gerät
8 bzw. 16 GB Arbeitsspeicher fest verbaut, Festplatte austauschbar
Hybrid Gehäuse, mit Carbonfasern verstärkt und 1,36 kg leicht
3 x USB 3.0 Anschluss, HDMI Anschluss, Mini DisplayPort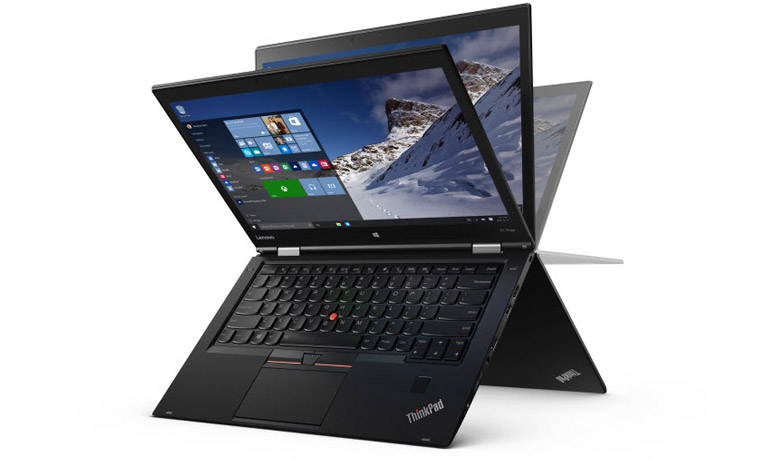 X1 meets Yoga
Der X1 ist seit Jahren Lenovos Ultrabook Flaggschiff. Hochwertige Materialien, ein leichtes, ultrakompaktes Gehäuse und eine technische Ausstattung, die keine Wünsche offenlässt. Bei dem ThinkPad X1 Yoga kombiniert Lenovo die erstklassige Qualität des X1 mit der Vielseitigkeit der Geräte der Yoga Reihe. Aber was bedeutet Yoga eigentlich? Die Geräte der Yoga Serie zeichnen sich dadurch aus, dass spezielle Scharniere verbaut werden, die eine 360 Grad Rotation des Displays ermöglichen. So kann das ThinkPad X1 Yoga nicht nur als Notebook verwendet werden, sondern passt sich der Situation, in der Sie es benötigen, an.

Laptop Mode
Im Laptop Mode unterscheidet sich das ThinkPad nicht von anderen Modellen der X1 Reihe. Komfortables Arbeiten und Tippen - egal wo sie sind - ob zuhause, oder unterwegs. Touchpad, Touchpad-Tasten und Tastatur sind voll einsatzbereit. Öffnet man den Displaydeckel mehr als 180 Grad, erkennen im X1 Yoga verbaute Sensoren dies und bieten optional die Möglichkeit, Touchpad und Tastatur zu deaktivieren, um nicht beabsichtige Eingaben zu verhindern. Gleichzeitig hebt sich der Rahmen der Tastatur minimal - die Tasten scheinen im Gerät zu verschwinden - und es entsteht eine glatte Fläche. Die von Lenovo Lift'n Lock genannte Technologie funktioniert rein mechanisch - also auch dann, wenn ihr Gerät nicht eingeschaltet ist.
Stand Mode & Tent Mode
Der Stand Mode und der Tent Mode sind ideal für das Arbeiten im Team, Präsentationen, Videokonferenzen, Netflix Abende oder, um seiner Kreativität mit dem optional erhältlichen Tablet Stift freien Lauf zu lassen. Das Keyboard des Gerätes rückt in den Hintergrund und macht Raum für das Display mit dem präzisen Touchpad.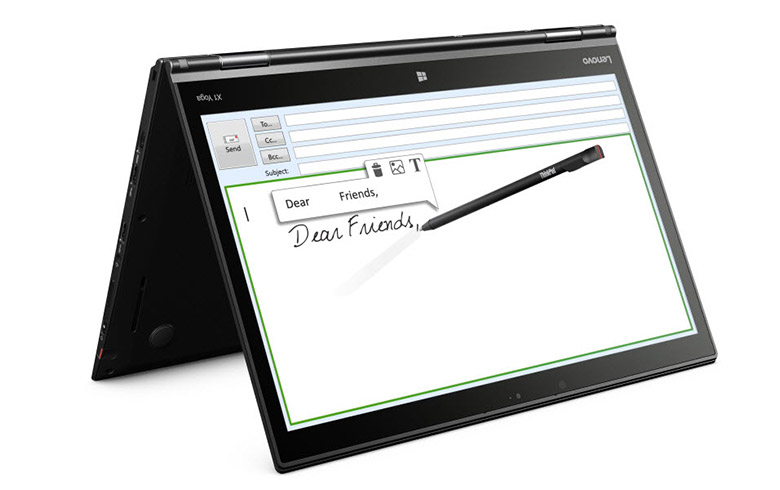 Tablet Mode
Im Tablet Mode wird das ThinkPad X1 Yoga zum vollwertigen, leistungsstarken Windows Tablet. Mit dem optional verbauten UMTS Modul surfen und arbeiten Sie, egal wo sie sich gerade aufhalten. Die Stifteingabe beim ThinkPad X1 Yoga ist sehr schnell, die Genauigkeit hoch, beim Schreiben kommt es nicht zu Verzögerungen und die Handballen-Erkennung funktioniert einwandfrei.

Leistung
Im ThinkPad Convertible sind ausschließlich Intel Core i5 und Core i7 Prozessoren der 6. Generation verbaut. Der Arbeitsspeicher im X1 Yoga ist fest verlötet und je nach Modell 8 oder 16 GB groß. LapStore bietet den X1 Yoga mit bis zu 512 GB SSD an. Starke Prozessoren, bis zu 16 GB Arbeitsspeicher und schnelle SSDs: Dieser Rechner ist sehr vielseitig, und ein starker Begleiter, egal ob Sie ihn privat oder beruflich nutzen möchten. Sollte es später einmal erforderlich sein, können sowohl die Festplatte, als auch der Akku problemlos ausgetauscht oder aufgerüstet werden.
Anschlüsse
Das ThinkPad X1 Yoga bietet eine Vielzahl von Anschlussmöglichkeiten. Auf der linken Gehäuseseite sind der Anschluss für das Slim Tip Netzteil, der One Link + Dock Anschluss, der Mini Display Port, sowie ein USB 3.0 Anschluss (always on) verbaut. Auf der rechten Gehäuseseite befinden sich der HDMI Anschluss, 2 USB 3.0 Anschlüsse, sowie ein Audio Anschluss (Headset Anschluss, Combo Mini Jack). Der SIM-Kartenslot für das optional verbaute 4G Modul befindet sich auf der Geräterückseite.

Zubehör
Gleich mitbestellen: Mit der One Link+ Dock Dockingstation wird aus Ihrem Yoga ein Office PC und der ThinkPad Pen bietet neue Möglichkeiten, kreativ zu arbeiten und an Ihrem ThinpPad X1 Yoga zu schreiben. Alle Informationen zum Thema Dockingstatonen haben wir für Sie in einem Blogbeitrag zusammengefasst.
shipping fees & delivery times
Payment method:
Vorkasse per Banküberweisung
Nachnahme
Vorkasse mit Kreditkarte oder Giropay
Vorkasse mit PayPal Express
Vorkasse per Banküberweisung
Vorkasse mit Kreditkarte oder Giropay
Vorkasse mit PayPal Express
Shipping method:
DHL-Paket
DHL-Paket
DHL-Paket
DHL-Paket
DHL Express
DHL Express
DHL Express
Shipment to Germany
by 19.05.2021
8,95 EUR

*

by 14.05.2021
13,95 EUR

*

by 14.05.2021
8,95 EUR

*

by 14.05.2021
8,95 EUR

*

by 17.05.2021
14,00 EUR

*

by 11.05.2021
14,00 EUR

*

by 11.05.2021
14,00 EUR

*

…
Shipment to France
by 21.05.2021
23,95 EUR

*

-
by 18.05.2021
23,95 EUR

*

by 18.05.2021
23,95 EUR

*

-
-
-
Shipment to Netherlands
(Shipping to commerical resellers only)
by 21.05.2021
23,95 EUR

*

-
-
by 18.05.2021
23,95 EUR

*

-
-
-
Shipment to Austria
by 21.05.2021
14,95 EUR

*

-
by 18.05.2021
14,95 EUR

*

by 18.05.2021
14,95 EUR

*

-
-
-