Store
Deals
- Manchmal kommen einzelne Geräte mit kleinen optischen Mängeln zu uns. Unter dem Stichwort "StoreDeals" bieten wir diese Ware zu einem besonders günstigen Preis an. Dieses Storedeal-Angebot weist folgende Mängel auf:
Leichter Bruch im Deckel

Diese Geräte haben einen kleinen Bruch am Displaydeckel, oft an den Ecken. Bei vielen Lenovo X220 und X230 ist der Deckel parallel zur Oberkante gebrochen. Eine Schwachstelle im Material. Die Notebooks funktionieren tadellos und die Fehler – gerade die Brüche parallel zur Oberkante – sieht man kaum.

Beispielbilder: nicht um Fotos vom jeweiligen Produkt, sondern lediglich um Beispielbilder zur Verdeutlichung der Fehlerkategorie!

CPU

Intel Core i5-6300U (2x 2,4 GHz / 3 MB Cache / 15 Watt)

Family

Intel Core i5 Mobile (6. Generation)

Number of Cores

2 cores (dual-core)

Max. Turbo Taktfrequenz

3,00 GHz

Prozessorgrafik

Intel HD 520 (4k Support)

Display

35,6cm 14" TFT Display IPS

Screen Resolution

1920 x 1080 Pixel (FHD)

Touchscreen

nicht vorhanden

Webcam

integrierte Low-Light HD Webcam

Installed RAM

8 GB DDR4 (1x 4GB fest + 1x 4GB gesteckt)

Max. installable RAM

20 GB DDR4 (4 GB fest + 1 Steckplatz)

1st HDD

256GB SSD SATA M.2 - 80mm

Festplattentyp

Solid State Disk

Optical drive

nicht vorhanden

Audio

HD Audio, 2x 1 Watt, Dual Array Microphone

NIC

10/100/1000 MBit/s Gigabit-Ethernet Adapter

Wireless LAN

Intel Dual Band Wireless-AC 8260

WWAN / UMTS

WWAN (UMTS) Modul aufrüstbar

Card Reader

4-in-1 Kartenleser (SD/MMC/MS/XD) + Smart Card Reader

Ext. monitor

1x Mini Displayport

USB 3.1

3x USB 3.1 (davon 1x always-on)

Audio

Headset Anschluss (Combo Mini Jack)

Kensington Lock

Anschluss für Kensington Lock

Battery

Li-Ion battery in used condition (14 day exchange policy for capacity < 40 min., actual duration may vary)

Pointing device

ThinkPad UltraNav (multi gesture touchpad + pointing stick)

Dimensions

331 x 226.8 x 16.9-18.8mm

Operating system

Windows 10 Pro - 64 Bit

Warranty

12 Monate Lapstore-Garantie (Akku nicht enthalten)

Service package

nicht vorhanden

Condition

Storedeal mit leichten Mängeln (siehe Beschreibung), im Übrigen: Normaler Gebrauchtzustand

Contents

Notebook with accessories in neutral shipping carton
Lenovo ThinkPad T460s
Federleichtes 14,0 Zoll (35,5 cm) Business Notebook für unterwegs
Arbeitsspeicher auf bis zu 24 GB erweiterbar, Festplatte austauschbar
Gehäuse mit Carbonfasern verstärkt und extrem robust
3 x USB 3.1 Anschluss, HDMI + Display Port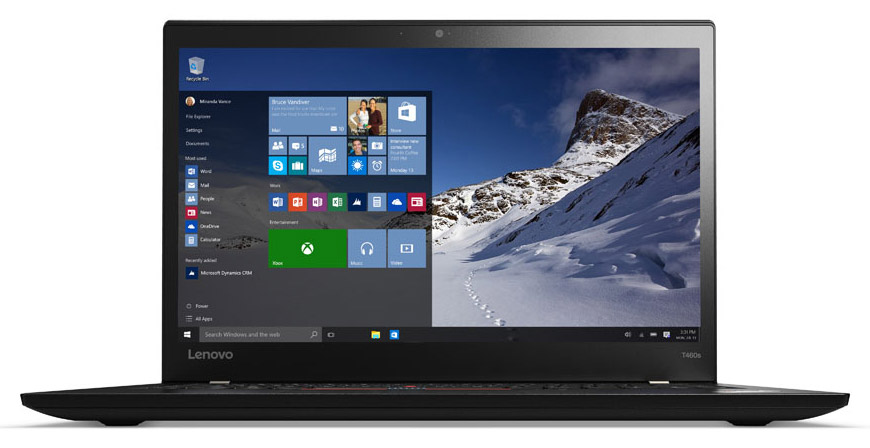 Ultrabook mit bis zu 10 Stunden Akkulaufzeit
Die Notebooks der T Serie sind seit Jahren die Vorzeigemodelle Lenovos und aus vielen Unternehmen in Deutschland nicht mehr wegzudenken. Das Lenovo T460s ist ein echtes Leichtgewicht und dennoch bietet das Ultrabook alles, was man sich von einem mobilen Rechner wünschen kann. Die meisten Modelle des 14,0 Zoll (35,5 cm) Notebooks haben ein ausgezeichnetes IPS Display mit Full HD Auflösung (1920 x 1080 Pixel), eine integrierte 720p-HD-Weitwinkel-Webcam und einen Touch Fingerprintreader, mit dem Sie jederzeit schnell Zugriff auf ihre gut geschützten Daten haben. Neue Akkus liefern laut Lenovo Power für bis zu 10 Stunden Laufzeit.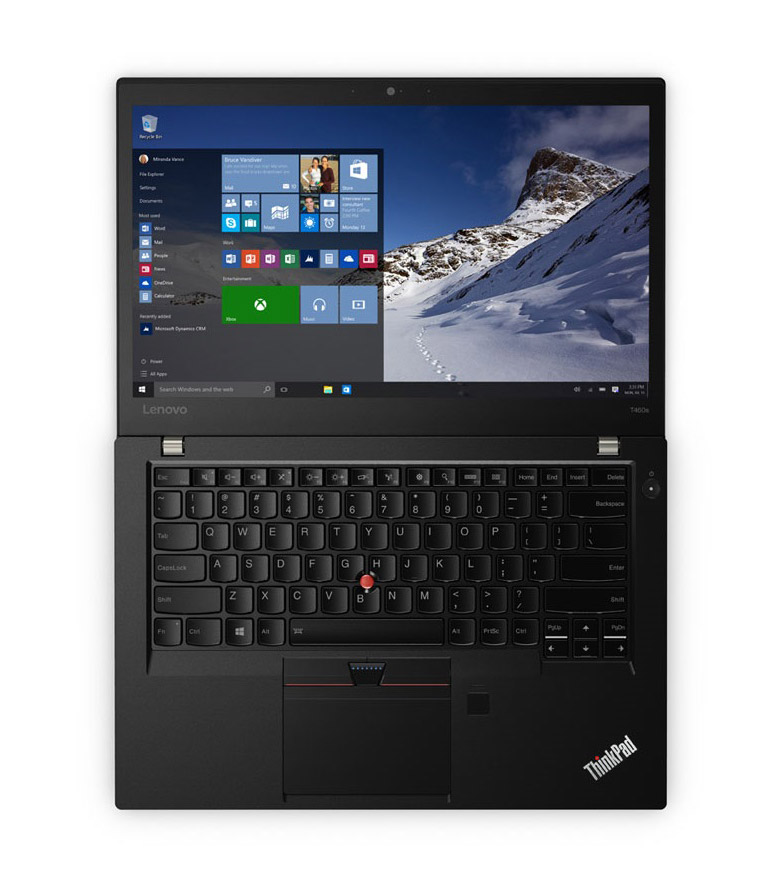 Mit Carbonfasern verstärkt
Der Deckel und die Oberschale des Lenovo ThinkPad T460s sind aus mit Carbonfasern verstärktem Kunststoff gefertigt und haben eine sehr angenehme Haptik. Die Oberfläche ist fast schwarz, matt und das Notebook wirkt insgesamt sehr wertig und edel. Die Unterschale des - je nach Modell - zwischen 1,36 und 1,50 kg leichten Ultrabooks besteht aus einer Aluminium-Magnesium-Legierung. Hochwertige, leichte und dennoch extrem robuste Materialien, die sicherstellen, dass Sie sich jederzeit auf Ihr Notebook verlassen können.

Anschlüsse
Auf der linken Gehäuseseite befindet sich der Anschluss für das Slim-Tip Netzteil, ein USB 3.1 Anschluss, ein Audio Anschluss (Headset Anschluss, Combo Mini Jack), sowie ein 4 in 1 Kartenleser für Karten im SD Format. Auf der rechten Gehäuseseite befinden sich 2 weitere USB 3.1 Anschlüsse, ein Mini DisplayPort, ein HDMI Anschluss, sowie ein Netzwerk Anschluss. Bei den Modellen, die über ein LTE Modul für mobiles Internet verfügen, findet sich an der rechten Seite zusätzlich noch der Sim-Karten-Slot.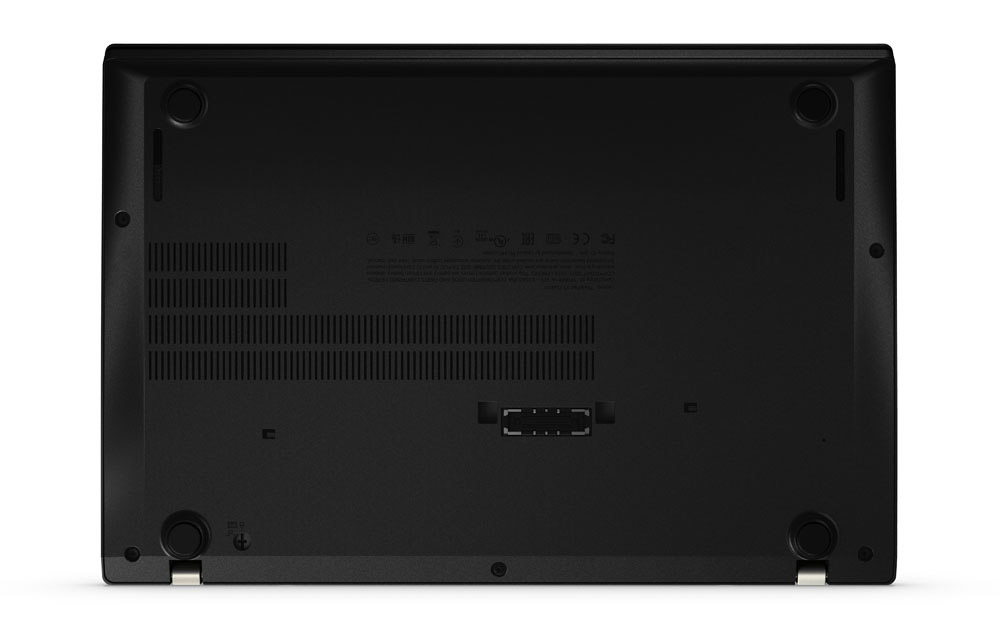 RAM, Festplatte und Akku austauschbar
Der Arbeitsspeicher des ThinkPad ist zum Teil fest verbaut. Das Notebook verfügt aber noch über eine weitere, frei bestückbare RAM Bank. Je nach Modell sind 4 bzw. 8 GB Arbeitsspeicher on Board. Bestückt man die zweite Bank mit einem 16 GB Modul, kommt der T460s auf 20 bzw. 24 GB maximalen RAM.
Die Akkus sind nicht verlötet und austauschbar, wenn der Tausch auch nicht mehr ganz so komfortabel möglich ist, wie dies beim Vorgänger, dem T450s der Fall war. Wurden die Akkus beim T450s noch einfach eingesteckt, befinden sie sich jetzt innerhalb des Gehäuses. Um Zugang zu Akkus, RAM Bank und Festplatte zu bekommen, wird die Unterschale des Gerätes (5 Schrauben) kurz abgenommen. Ein Aufrüsten mit mehr Arbeitsspeicher oder einer anderen SSD ist also weiterhin jederzeit möglich.
Ultrabook und vollwertiger Office Rechner
Das ThinkPad T460s verfügt über einen Lenovo Dockingport auf der Geräteunterseite. Wer seinen Rechner gerne als Arbeitsrechner nutzen möchte, im Homeoffice oder in der Firma, kann mit der ThinkPad Basic, Pro oder Ultra Dock problemlos und mit "einem Klick" viele Endgeräte an sein Notebook anschließen. Lenovos ThinkPad T460s ist extrem flexibel und vielseitig: Ein Ultrabook, wenn Sie unterwegs sind, ein vollwertiger Office Rechner, wenn Sie an Ihrem Schreibtisch arbeiten.
Zubehör
Gleich mitbestellen: Die passende Dockingstation für Ihr neues Notebook und ein zweites Netzeil für unterwegs. Alle Informationen zum Thema Dockingstatonen haben wir für Sie in einem Blogbeitrag zusammengefasst.
shipping fees & delivery times
Payment method:
Vorkasse per Banküberweisung
Nachnahme
Vorkasse mit Kreditkarte oder Giropay
Vorkasse mit PayPal Express
Vorkasse per Banküberweisung
Vorkasse mit Kreditkarte oder Giropay
Vorkasse mit PayPal Express
Shipping method:
DHL-Paket
DHL-Paket
DHL-Paket
DHL-Paket
DHL Express
DHL Express
DHL Express
Shipment to Germany
by 05.07.2021
8,95 EUR

*

by 01.07.2021
13,95 EUR

*

by 01.07.2021
8,95 EUR

*

by 01.07.2021
8,95 EUR

*

by 02.07.2021
14,00 EUR

*

by 29.06.2021
14,00 EUR

*

by 29.06.2021
14,00 EUR

*

…
Shipment to France
by 08.07.2021
23,95 EUR

*

-
by 05.07.2021
23,95 EUR

*

by 05.07.2021
23,95 EUR

*

-
-
-
Shipment to Netherlands
(Shipping to commerical resellers only)
by 08.07.2021
23,95 EUR

*

-
-
by 05.07.2021
23,95 EUR

*

-
-
-
Shipment to Austria
by 08.07.2021
14,95 EUR

*

-
by 05.07.2021
14,95 EUR

*

by 05.07.2021
14,95 EUR

*

-
-
-